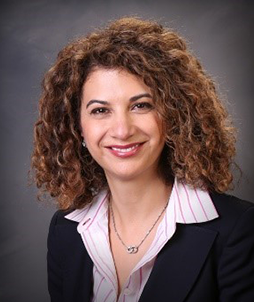 Mojdeh Mehdizadeh has more than 30 years of experience in higher education, serving for over 20 years in executive leadership roles. Mojdeh currently serves as Interim Chancellor for the Contra Costa Community College District (4CD), where she is responsible for assessing, planning, organizing and evaluating the resources, programs, and services of 4CD to meet the educational needs of the students and the community. In her former role as Executive Vice Chancellor, Education and Technology, she led efforts across the colleges (Contra Costa, Diablo Valley, and Los Medanos) in educational programs, student services, workforce and economic development, information technology, international education, distance education, research and planning, and grants. Mojdeh has also served as President of Contra Costa College. In her early tenure, she taught Speech Communications as an adjunct faculty member at Diablo Valley College.
Mojdeh completed her undergraduate general education requirements at Diablo Valley College where she developed her understanding and appreciation of the importance of the community college system in developing students for meaningful roles in their careers and the community. She has been and continues to be very active in state, federal, and other organizations aimed at enhancing equitable public educational systems throughout California. Mojdeh is a passionate leader in assuring excellent and affordable post-secondary education for all students, regardless of their social and economic situation. Her participation and advocacy in this area extends to serving locally on the Board of the Richmond Promise, and in shaping the statewide directions in support of student access and success with the California Community College Telecommunications and Technology Advisory Committee and the Institutional Effectiveness Partnership Team.
Mojdeh holds a Master of Arts degree in Organizational and Intercultural Communications from California State University East Bay and a Bachelor of Science degree in Computer Information Systems from San Francisco State University.